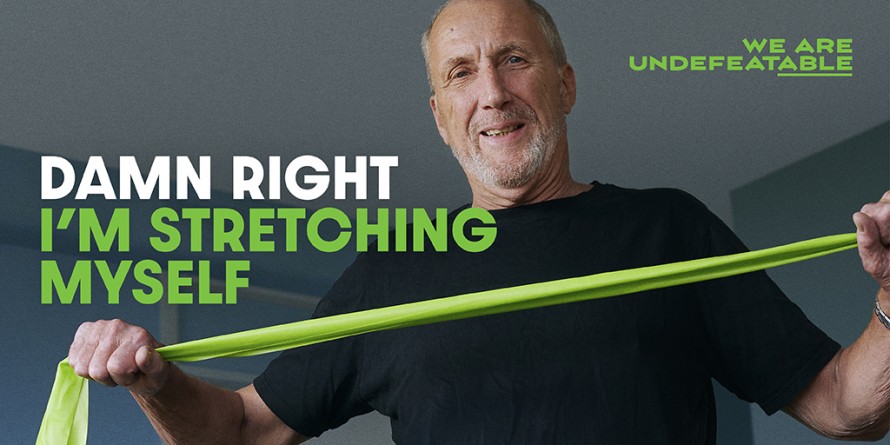 We Are Undefeatable is a movement supporting people with a range of long term health conditions, developed by 15 leading health and social care charities and backed by expertise, insight and National Lottery funding from Sport England.
The campaign brings together partners who reach people living with:

Arthritis
some long-term limiting mobility conditions
Alzheimer's
Asthma
Back pain
Cancer
Chronic Obstructive Pulmonary Disease/Lung Condition
Dementia
Heart Disease
Stroke
hypertension (or other heart related condition)
Long-term depression or anxiety
MS
Parkinson's
Type 1 and Type 2 Diabetes

Due to the nature of the campaign, it also hopes to inspire those living with other conditions who can be more active, beyond those listed above.
Being Undefeatable is understanding that how you feel can change from day-to-day, that everybody's situation is unique, and that moving more when you can is just as important as accepting when you can't. Every achievement, no matter how small it might seem to someone else, is worth celebrating.
The campaign website provides all of the information, resources and advice for people with long term health conditions to start their journey to being more physically active. Join the supporter's hub on the website for access to the campaign assets such as how to effectively engage with the campaign, images and social media support to promote the campaign as well as access to the mini workouts. The campaign website has links to real people living with various long-term health conditions and how they have found ways to get moving, as well as ideas on how you can make getting active work for you.
In response to COVID-19 the campaign has produced a leaflet promoting real life stories of how people with different health conditions have been active at home, advice and guidance on finding what works for different people and support to get started, as well as examples of activities that individuals can undertake in their own homes.
If you would like any of the leaflets, including the activity leaflets please contact Nicola Massingham to arrange some leaflets to be sent to yourself or your organisation;
nmassingham@activehumber.co.uk