Discover more about how we're getting involved with the climate change agenda
Why we all need to get involved in climate change action
Club Matters has produced a short animation for clubs and community groups to help them think about the action they can take to tackle climate change.
Active Humbers Action for Change Roadmap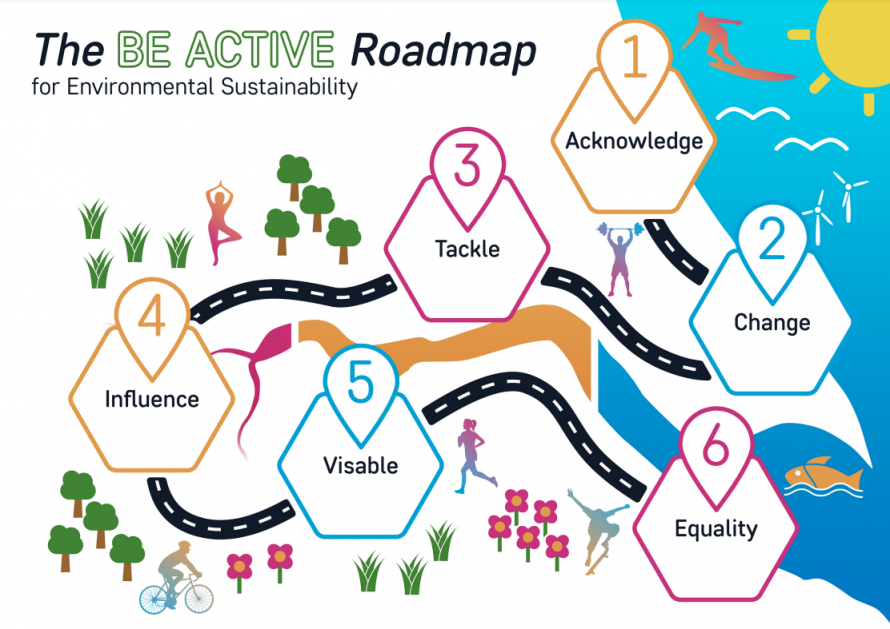 The link between inactivity and carbon rich lifestyles
We might in the Humber have the UK's biggest port and move more stuff than anywhere else in the UK but our population is not moving as we one of the most physically inactive places in England.
It is great that at the core of our economic strategy for the region, we are England's kitchen. But we have a population which is amongst the most overweight and obsese in the UK.
The Humber population is not a healthy population and when you add the clear negative health aspects of climate change, we are an unhealthy place to live and work.
It doesn't have to be that way.
At Active Humber we believe that by simple and easy changes incorporated into all of our daily lives we can begin to turn things round.
For us in physical activity and sport if there is no planet, there is no sport.
And whilst this is true it is almost too obviously true… in a less obvious and more immediate way, changing climate impacts our ability to play sport and be active – we know people don't like to play when its 'too hot' or 'too wet' – so hotter summers and wetter winters don't help that much – and when it comes to flooding (a big concern for the Humber region), well unless we change our national sport to Swamp Football (it's a real thing, look it up, played in parts of Scotland, and there is a big championship in Germany at the Wattolumpide – loose translation mud Olympics)… then participation rates will fall in the short term – we know lots of Sunday league football were lost to waterlogged pitches last year.
We believe the connection between a stable climate and the future of our playing field - planet earth - is undeniable.
We know that with an athletes mindset; determination, persistence, and relentlessness, we can in physical activity and sport use the power and energy of physical activity, to help move our community across the Humber to climate action.
It is going to be a big challenge in this race to carbon neutrality. We will have to adapt and be more resilient in the way we live and we believe a major adaptation for the Humber must be to move quickly from a sedentary way of living, to an active way of living.
Today's modern lifestyle of being online, charging and constantly using personal devices, using carbon-intensive media, along with the growing IT sector, is estimated to have the same carbon footprint as the airplane industry and will consume as much as 20% of the world's electricity by 2030.
The evidence on time-use suggests that replacing screen time with physical activity or sleep is very beneficial to health outcomes. Therefore, supporting individuals to adjust their daily activities with behaviours that are less carbon-intensive and more physically active will have a dual positive contribution to climate change mitigation and non-commutable diseases (NCD) reduction.
Since 2002 sedentary behaviour i.e. sitting down for move than 5 hours a hour a day has risen in the UK by 22.5%. We are getting to be very lazy and the most sedentary in Europe.
It is official from the World Health Organisation that being physically inactive is the World's fourth biggest killer.
You sit for long periods you die. You move, death finds it a bit harder to catch up with you.
Many scientists and organisations suggest that climate change mitigation and NCD prevention efforts must go hand-in-hand. Therefore, strategies targeting both sustainability and human health should be developed for dual benefits, for example:
Using public transport and active transportation (e.g. cycling and walking) instead of driving
Engaging in different types of outdoor activities rather than spending time indoors in front of a screen
Consuming diets rich in plant-based proteins
All the data is telling us the truth about climate change and physical inactivity.
The Centre for Active Living conducted a case study on NCD mortality rates that showed that in high-income countries with economic development and industrial processes associated with high GHG (Green-House-Gas) emissions and high levels of access to electricity resulted in low levels of physical activity.
We can see this clearly across the Humber and as individuals we have to change our unending appetite to afford new materials (e.g. fossil-fuelled vehicles, televisions, computers, and other electronic devices). Also, more access to electricity results in increased carbon-intensive, sedentary behaviours (e.g. sitting in a motorised vehicle or in front of a screen) and less time spent in the carbon-free outdoors and being physically active. These behavioural patterns undeniably and negatively impact human health and the climate across the Humber.
There are many carbon reduction targets at present but two that are relevant for discussion from differing World Bodies in the way we must radically change the way we live, work, and consume are;
a 10% relative reduction in physical inactivity by 2025
to keep the global temperature increase to well below 20C by 2050
To help achieve those two targets we at Active Humber believe in a bottom-up, small-scale action planning approach with a particular focus on behavioural modification strategies consisting of physical activity and screen time/media use behaviour.
It is about individuals aiming to decarbonise their daily living as much as possible. For instance, choose to use active modes of transportation (e.g. walking and cycling instead of driving), and replace carbon-intensive behaviours (e.g. screen time and live streaming) with carbon-free physical activity or outdoor time. These behavioural change strategies will contribute to obtaining dual environmental and health benefits.
Being physically active every day really can help us in our overall race to carbon neutrality across the Humber. Get out of that chair and be active!
Active Humber 'Race to carbon neutral' plan
This is our six point 'race to carbon neutral' game plan.
Overall to achieve this plan we want to act as system change agent, advocating and influencing the conditions for climate conscious policy and investment through the medium of physical activity and sport. There is a need for more research into carbon intensive lifestyles as well as what practical things we can do now.
Encourage everyone to be physically active, it not only helps the environment but it helps people value their environment
Encouraging the development of infrastructure that encourages physical movement of people e.g. active travel
Promote and encourage people to actively use green and open recreational spaces
Promote mass communication campaigns like 'This Girl Can' and 'We are undefeatable' alongside mass participation events to get people active
Training of professionals to better integrate the value of physical activity into their professional roles
Advocate for climate conscious policy development with physical activity at its heart
United Nations Sports for Climate Action Framework
The United Nations is inviting the sports sector to become a climate leader by joining in a new climate action for sport movement that will set the trajectory and provide the support for sport to play a winning role in achieving global climate change goals. Uniting behind a set of principles, this movement of sports organisations and their communities will work together to get on track for the net zero emission economy of 2050 that global leaders agreed in Paris.
The activities under Sports for Climate Action have two overarching objectives:
Achieving a clear trajectory for the global sports community to combat climate change, through commitments and partnerships in congress with verified standards, including measuring, reducing, and reporting greenhouse gas emissions in line with well below 2 degree scenario as set out in the Paris Agreement;
Using sports as a unifying tool to drive climate awareness and action among global citizens.
The participants in the Sports for Climate Action Initiative will commit to adhere to the following five principles:
Undertake systematic efforts to promote greater environmental responsibility

Reduce overall climate impact

Educate for climate action

Promote sustainable and responsible consumption

Advocate for climate action through communication
Click here to find out more.
SECC has created a 'one-stop shop' for key resources on sports sustainability. This hub aims to support the sector and improve environmental impact through sustainability in sport. Click here to find out more.
Sport Environment and Climate Commission (SECC)
Active Humber supports the work of the Sport Environment and Climate Commission (SECC) and its commitment in the fight against climate change and the role that the sport and physical activity sector can play in moving the United Kingdom towards Net Zero.
Active Partnerships (SECC member) with their England wide coverage and ability to influence and make change happen at a local level have a critical role to drive the change needed around climate matters at a local level. SECC provides the ability for national and local sporting and physical activity organisations to work together on reducing the harmful effects of climate change. Whilst the climate does not recognise national or local boundaries it is a combination of national and local programmes working in unison that can deliver the change required. SECC stresses the time to act is now and with the local reach of Active Partnerships they can effectively support partners to make the changes needed, at the speed needed.
The unique role that Active Partnerships play in getting the nation active and reducing sedentary behaviours by encouraging people to be physically active, as well as getting people to walk and cycle for their short journeys are all great ways to reduce carbon emissions. Active Partnerships have a critical role to help people be active for themselves, their community, and the planet.
Sport Environment and Climate Coalition statement on climate change and environmental sustainability
Sport, recreation, and physical activity is enjoyed by millions of participants and fans across the country from grassroots to the elite, delivering huge social and economic value through improved health and wellbeing, connecting communities, and supporting economic growth.
And our natural and built environment provides the places and spaces for people to be active in any way they choose – from pitches, parks, courts and swimming pools to mountains, rivers, coasts, and lakes.
But climate change and wider environmental degradation as a result of pollution, biodiversity loss and resource consumption present a clear threat both to our way of life and to our sector.
We therefore need to change the way we operate now to reduce our environmental impact and contribute to wider efforts to reach net zero. And we must take steps to protect the environment within which sport, recreation and physical activity takes place so that our many millions of participants and future generations can continue to enjoy it in the coming decades.
And ultimately the urgency of the task we now face requires leadership – all of us have a role to play in maximising the enormous power and reach of sport, recreation, and physical activity to inspire positive environmental and climate action.
In this context, the signatories to this statement have come together to establish a UK-wide, cross-sector approach comprising the following elements:
Creation of the Sport Environment and Climate Coalition (SECC) to lead and coordinate the sector's efforts on climate change and environmental sustainability. The group will harness the sector's collective resources to help reduce the environmental impact of sport, recreation and physical activity and contribute to the UK's transition to net zero.
An assessment of the current level of awareness, understanding and action on climate change and environmental sustainability to identify the support needed to help the sector adapt and become more sustainable in the long term.
Development of an ambitious roadmap setting out how the sector will transition to net zero alongside the provision of advice, guidance and support to organisations in the sector to improve their environmental sustainability.
A collective commitment to place tackling inequalities at the heart of the sector's efforts to transition to net zero and become more environmentally sustainable.
Creation of a sector-wide campaign to highlight the importance of climate change and environmental sustainability and leverage the power and reach of sport, recreation, and physical activity to drive positive action.
Achieving our collective ambition on climate change and environmental sustainability will require a collaborative approach and as a group we are committed to working in partnership with our members, partners, and government at national and local level to deliver meaningful change.
Active Humber supports the work of the Yorkshire & Humber Climate Commission. This video explains the role of the Commission and the challenges we face in tackling climate change across the region.
We are one of several organisations who have signed The Yorkshire & Humber Climate Action Pledge
The Yorkshire & Humber Climate Action Pledge is a simple commitment to taking action on climate and nature. Businesses and organisations pledge to take actions that will help them adapt to a changing climate, reduce their carbon emissions, enhance nature and biodiversity and promote fairness. It's a growing movement of organisations across Yorkshire who recognise that we need to take action to protect our region from climate impacts and unlock the benefits of a green economy.