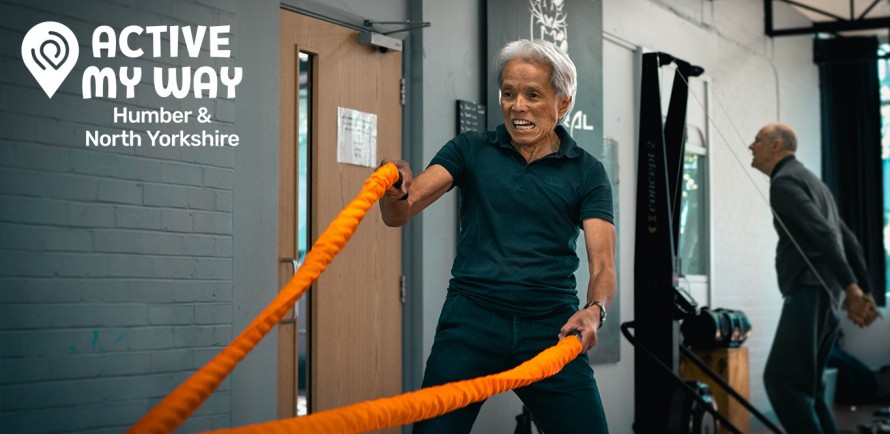 What is it?
Active My Way is a new website that pulls together a huge range of local activities in one place, so that people can find ways to get active more easily.
It's searchable by filters, meaning people can find the perfect activity to suit what matters to them.
The Activity Finder is provided by a group of organisations called Active Partnerships who work to help get more people active across different regions of the UK, this makes it FREE to use for everyone!
It's Active Humber who look after the website for the Humber region.
Why does it matter to you?
If you're a sports club, community setting or individual who wants to get more people to attend your sessions this new website is great news for you!
You can add the details of your class, group, or session to this website completely FREE of charge. That means more people can discover who you are and what you do.
Why should you get involved?
1. It's FREE
It's FREE to sign up, use and access for everyone.
2. An online presence
Adding details of your setting to the website means you can have a presence online, even if you don't have a website of your own.
3. Allow people to book onto your sessions online, even if you don't have a website!
There is also a straightforward way to allow people to book onto a session you're hosting via the site (and manages their payment?).
4. More people can find you!
Signing up means more people can find your club, activity, group, or class online.
5. Get in front of more of the right people!
The filters on the site make it easier for people to find what they want quickly. It can be searched by eight filters from age to time; location to price and more, which makes it more likely the right people will find your offering.
6. Someone else is promoting you to a different audience from the one you have now!
Active Humber will be promoting this website across the Humber region, so even more people will be able to find who you are and what you can offer.
7. Improved SEO to your website
If you do have a website of your own already (you can link to it from the website, which will improve your SEO).
Supporting people with Long Term Health Conditions and Disabilities?
Whilst the website is open for everyone to use, there is an additional focus on supporting people with long term health conditions and disabilities.
That means if you have a class, group or session that specifically works with people with long term health conditions and disabilities, your target audience will be able to discover you more easily.
Active Humber will be actively promoting the website to people who work with people who have long term health conditions and disabilities, to encourage them to share the resource with the people who will benefit most from it.
Add your club, group, setting or class to the website now
Read our simple guide which will show you how you can sign up to the Activity Finder and start enjoying the benefits of being part of Active My Way.
Active My Way is powered by Open Data, which means that it finds activities from across the internet and puts them all in one place so that more people can find them. It also means that activities displayed on Active My Way will all be displayed on a range of other activity finders.
How you add your activities to Active My Way depends on how people currently book on to your sessions. We'll tell you how below:
1. If you do not currently use an online booking system.
You will need to create an online booking system using an Open Data enabled platform. You can use this to take bookings and payments online, or just to let people know how they can join your sessions.
There are several online booking systems that work with Active My Way including Bookwhen, Playwaze and Sportsuite. Click here to view all the platforms you could choose.
We recommend using Open Sessions as it is free to use and simple to set up your activities on. All you need to do is register an account using your email address and then start adding your activities. Make sure you include as much information as possible about your activities including accessibility information so that people know if it is right for them. Click here to sign up for open sessions or watch a five minute webinar about how add your activities here.
2. If you already use an online booking system through a third party platform.
If you are already using an online booking platform then your activities may already be displaying on Active My Way. Click here to see a list of online booking platforms that are Open Data enabled. If your platform appears on the list, follow this link and search for your platform in the search bar to find out how to publish your activites to Open Data activity finders. It is usually as easy as ticking a box in your settings.
3. If you use a bespoke online booking system.
If you are using an online booking system that has been made specifically for your organisation, it is possible to build Open Data functionality into your system so that your activities appear on online activity finders.
You or the company that provides your online booking system can follow this link to view instructions on how to make your booking system Open Data enabled so that you can start publishing your activities to online activity finders such as Active My Way.
If you want to speak to us about adding your activities to Active My Way, feel free to email us at humbernorthyorkshire@activemyway.org.
Terms and conditions
You're responsible for any content you upload to the website. If the dates, times, or offerings change, please keep the website updated so that it works as it should for everyone using it. Please only upload information about activities that help get people moving more.